This is the first instalment of very obscure recordings from Italy with a clearly Psychedelic sound and vision.
This band is so obscure that they actually never had any records released at the time. Gli Astrali came from the Northern city of Turin and their work was finally released in 1995 by Destination X, a label that did a great job unhearthing many lost bands from the Italian 60s.
The quality here is a bit rough but I think the performances are great and even more so in the context of the Italian musical landscape.
This posthumous album opens with a great version of the Yardbirds'"Evil hearted you" followed by "Viaggio Allucinogeno" (Hallucinogenic Voyage...or is it Trip?!) actually a short groovy instrumental. More experimental it's the next one as you can guess by its title, shame it is only 1:30 long.
Next there are a couple of interesting covers, especially The Byrds'"Eight Miles High" followed by the Standells'"Rari" .
The last track on this record is the aptly titled "Un'altro viaggio allucinogeno" , "Another Hallucinogenic Trip"....and this time we're sailing into psychedelic waters for nearly 9 minutes.
I love this record, at times reminds me of some of those more Psychedelic inclined US Garage bands.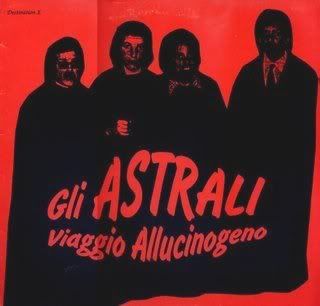 Tracklist:
01 Non siamo come voi
02 Viaggio Allucinogeno
03 Improvvisazione
04 Credi
05 Vado su in alto
06 Una notte al bar
07 La libertá
08 Un'altro viaggio allucinogeno
http://www.shareonall.com/ASTRALI_cbpg_rar.htm