"Io vedo nei muri sbocciare fiori tropicali dai mille splendidi colori che mi esplodono di dentro come mai..." (Equipe 84)
I almost posted this comp about a couple of years ago, when the blog was running on a fairly regular basis.
In fact it did end 2 years ago, without being dead as such...most links still work and I've just re-upped the Planets LP that somehow had disappeared from my files (see original post).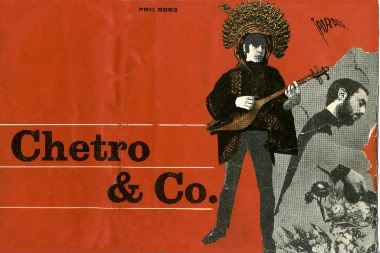 The centrepiece of this collection of Psychedelic sounds from my native country is what I consider a little jewel and a real oddity in the Italian Pop music landscape.
Chetro & Co. sole 45 is a work of Art that begins with the sleeve that folds several times revealing a collage of different images.
I'm pretty sure there weren't that many singles around clocking at over 5 mins. as "Evening Dances (Suite in Psychedelic mode)" does.
Do not worry if you don't understand the lyrics based on a poem by famous film director Pasolini, it's the music that captivated me in the first place, drawing influences from the Middle-Ages, the East and everything in between!
The B-side translates as "Milestones"...Mr Davis being the prime inspiration there.
They even invented their own instrument, a "violaccia", described as a 6 to 10 string instrument that uses a bow...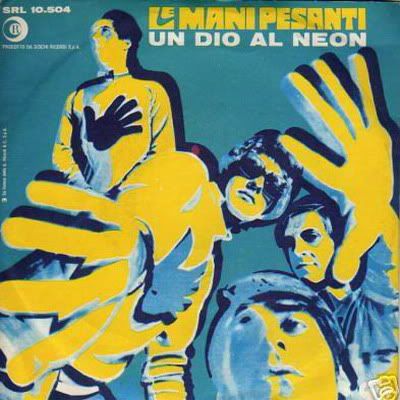 Another interesting rarity is the only 45 by Le Mani Pesanti (The Heavy Hands)whose A-side is a protest against capitalist society, with lines like "...do not thanks for those golden chains, it's so you can produce more...( "A Neon God").I love the dreamy B-side, both sides are great and I would buy it for the great sleeve alone!
Also included and from the opposite spectrum of popularity is my favourite track from "Stereoequipe" the 1968 masterpiece by Equipe 84 and the first album to be released only in stereo in Italy. The song starts with lyrics about tropical flowers blossoming from the walls,exploding in all their colours inside me, like never before!
Also better known without ever reaching the fame of the Equipe 84, were I Quelli, whose 5th single is featured here. They evolved into PFM the most popular and internationally successful Italian Progressive band of the 70s.
Gli Astrali and Le Stelle are to be found on previous posts but are also included since they fit perfectly and chances are you actually never heard them!
While two tracks from Le Stelle are from their 1967 LP, also included here is the A-side of their only 45 released the following year.
Some of the tracks included are not full blown psychedelic, like for example the G-Men from my hometown Rimini, but they do hint at what was coming or happening.
I Fantom's were quite ahead of most other bands in Italy, just listen to the astounding tracks taken from their 1966 three track EP.
One of the aims of this blog has always been to offer music from non-English speaking countries but providing some background in the English language in order to reach a wider audience.
While understanding some of the lyrics might highten your enjoinment I think the music speaks louder and it would be nice to hear some comments about it.
ANIME Non mi sembra vero (Milano 1969)
ASTRALI Vado su in alto (Torino 1967)
G-MEN Il canto dei ragazzi (Rimini 1967)
FANTOM'S Le insegne pubblicitarie (Torino 1966)
FANTOM'S Il treno (Torino 1966)
LE STELLE DI MARIO SCHIFANO Molto alto (Roma 1967)
CHETRO & CO. Danze della sera (Suite in modo psichedelico) (Roma 1968)
CHETRO & CO. Pietre numerate (Roma 1968)
EQUIPE 84 Per un'attimo di tempo (Modena 1968)
MANI PESANTI A proposito dell'amore (1968)
MANI PESANTI Un Dio al neon (1968)
QUELLI Dettato al cappello (Milano 1968)
QUELLI Mi sentivo strano (Milano 1968)
LE STELLE DI MARIO SCHIFANO Il mondo va (Roma 1968)
LE STELLE DI MARIO SCHIFANO Susan's song (Roma 1967)
http://www.mediafire.com/?el2p4gqyumlruiv