A Trip on the Dear Old Soft Machine...
One of my very favourite bands here Live at the BBC in December 1967 (tracks 3-7).
It is a wonderful performance with the first couple of songs by Kevin Ayers, both great and both never issued on the Softs records.
Their first single (tracks 1 & 2) was released in February 1967 by the four piece band, with the great Robert Wyatt on spectacular drums and unique vocals, Mike Ratledge on keyboards, Kevin on bass and vocals and Australian Daevid Allen later of Gong on guitar. Both songs were written by Kevin Ayers. I always loved his stuff with The Soft Machine and obviously once he was gone it was a different story, I love their second album and even "Third" but from then on it's not really my cup of tea...Kevin Ayers would re-record several songs from this period for his solo albums but they will never sound as good!
Also recorded when they were still four are tracks 9-17, those have appeared several times over the years, they were demos recorded in April 1967 soon after their debut single . Over the next few months they recorded a bunch of songs for projected new singles like the different take of "She's gone" from a July 1967 session (track 08).
The last song on this post is the 45 version of another great Kevin Ayers composition that was on their debut album "Why are we sleeping".
Kevin left after the Softs first fantastic album and was replaced by Hugh Hopper that together with Wyatt and Ratledge went on to record a lot more stuff and appear in the bonus tracks...but what exactly is a dream and what exactly is a joke?
01 Love makes sweet music
02 Feelin reelin squeelin
03 Clarence in Wonderland
04 We know what you mean
05 A certain kind
06 Hope for happiness
07 Strangest scene (AKA Lullaby letter)
08 She's gone (45 version)
09 That's how much i need you now
10 Save yourself
11 I should've known
12 I'm so low (Jet propelled Photographs)
13 When i don't wan't you
14 Memories
15 You don't remenber
16 She's gone
17 I'd rather be with you
18 Why Are We Sleeping
Bonus tracks!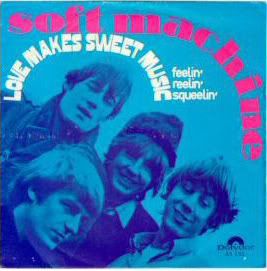 http://www.shareonall.com/SOFT_MACHINE_Love_Makes_Sweet_Music_mkwn_rar.htm