If there ever was a Freakbeat anthem that must be "Crawdaddy Simone" a song that's been appearing in several comps over the last twenty years or so.
The Syndicats are usually mentioned by the mainstream, if at all, because they were Steve Howe's first band, he later achieved greater fame with Yes but for me and a whole lot of other people he reached his peak with Tomorrow.
In fact as far as I'm concerned Yes were better in the beginning with original guitarist and former Syn, Pete Banks.
(The Syndicats did NOT become The Syn...)
Actually "Crawdaddy Simone" is the only recording that does not feature Mr.Howe, he was replaced by Ray Fenwick.
That is the band in the above picture with Fenwick second from the left.
There is an absolutely wild, must see appearance at the UK TV show "The Beat Room", that you can not miss!
Syndicats Live & Wild at the Beat Room, 1964
They were formed in 1964 and saw several line-up changes.
Their three singles on Columbia (EMI) were produced by the legendary Joe Meek, with the first one not particularly brilliant and posted here for completeness's sake.
The second 45 is fantastic with a great B-side too featuring a kind of haunted house organ.
Syndicats Live & Wild at the Beat Room, 1964 (part 2)
Discography:
Maybellene / True To Me, April 1964
Howling For My Baby / What To Do, January 1965
On the Horizon / Crawdaddy Simone, September 1965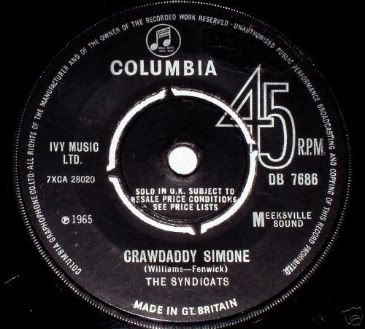 Tracklist:
01 Bo Diddley Medley (Live at The Beat Room, 1964)
02 Howling For My Baby" (Dixon)
03 What To Do" (Howe/Truelove/K. Driscoll/T. Driscoll)
04 Crawdaddy Simone" (Fenwick/Williams)
05 On the Horizon" (Leiber/Stoller)
06 Leave My Kitten Alone" (John/Titus Turner/James McDougal)
07 Don't Know What To Do" (Howe)
08 Maybellene" (Berry)
09 True To Me" (Ladd/Howe)
tracks 6 & 7 previously unreleased
NEW LINK (16 Jan 2009)
http://www.mediafire.com/file/axytykznydj/SYNDICATS.rar