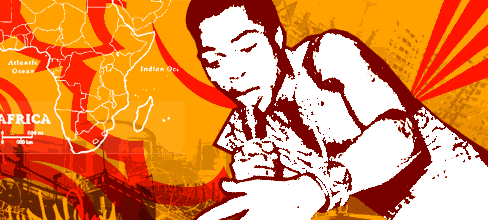 Lately I noticed few bloggers complaining about not receiving enough comments...
Back in February I posted one of three African comps I had made for my sister, promising more if people enjoyed it...I never received any comments whatsoever (hold on! One positive comment but under a different post...) but do you know what?
It's probably the other way round...the less comments you find the more people liked the music!
I'm only kidding, but after a quick look I noticed how the number of people who downloaded my African comp was almost double when compared to most of my other posts.
Conclusions: I'd love to hear from somebody who liked it but I couldn't care less if you can't be bothered...meanwhile here is another African comp with artists coming from NIGERIA, GHANA, ANGOLA, ETHIOPIA and others also featuring early stuff by Fela Kuti, once again this is for "beginners" if you're a fan of this stuff you'll know all or most of it...
01.
Fela Kuti
Laise Lairo
02.
Fela Kuti
Omuti Tide
03.
The Black Star Sound
Nite Safari
04.
Ngoma Jazz
Belita Kiri-kiri
05.
Alemayehu Eshete
Honey Baby
06.
Fela Kuti
Highlife Time
07.
Ayalew Mesfin
Hasabe
08.
Fela Kuti
Ololufe Mi
09.
Kalle & L'Africa Team De Paris
Africa Boogaloo
10.
Kale with Orchestre OK Jazz
Tika Nedeka No Te
11.
Jimi Solanke
Eje Kajo
12.
Fela Kuti
Wadele Wa Rohin
13.
Orlando Julius & His Afro Sounders
Home sweet home
14.
Alemayehu Eshete
Ayalqem Tedengo
15.
Pedrito
Ngalenga Kubata
16.
Gambuzinos
Kalumba
Hope you dig it as much as the first one!
http://www.shareonall.com/AFRIKA_2_vfdv_rar.htm