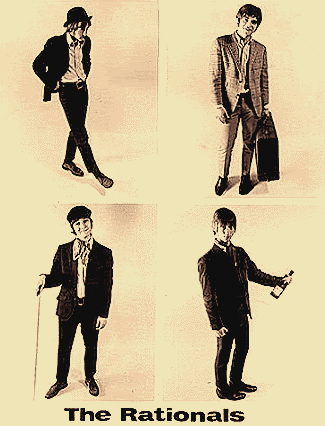 They were one of the earliest band from Detroit/Ann Arbor, releasing some fantastic singles in 1965-1966 and by the end of 1966 there was a scheduled LP to be released on their Fan Club label...that never happened and apparently only a couple of copies were pressed (literally! not even one for each member!).
Tapes of that have been circulating, as well as continuous rumours of it being finally released...well, this post apart from being a tribute to the Rationals' beginnings is trying to piece together that album.
Sound quality is not the best on most tracks but the performances are just great.
There is at least one song("I Want To Walk With You") I don't have that is mentioned here:
http://www.scottmorganmusic.com/scott_rationals.html
an excellent place to get the full story of the band, and you can also find an interview to Scott Morgan by Richie Unterberger here:
http://www.richieunterberger.com/morgan1.html
Please note, this is NOT the Fan Club LP exactly as it was, I don't know the exact running order (perhaps someone can tell us that!)and while there are alternate versions of their first singles, the fabulous "Feelin' Lost" (with Iggy on drums!) is from the 45.
The opening track is pure garage, you also get an excellent cover of "Gloria", some instrumentals, perhaps among the earliest recordings of the band and a version of "Smokestack Lightning" that shows them at their wildest...the song turning into the Animals' "Inside looking out" but unfortunately (for me!) instead of being an example of things to come the band would prefer to go down the Soul path...
They released a bunch of singles between 1967-1969 including two versions of "Leavin' here" one backed by "Respect" (before Aretha Franklin's version...) and finally a whole album in 1970.
I used to have that LP but never really got into it even though I liked "Guitar Army" and especially "Glowin"...this is a taste of what this band was like in the early days and hopefully there will be a proper issue of this material soon!
I expect some comments!
Singles Discography:
Look What You're Doing to Me Baby/Gave My Love
A-Square Records, 1965
Feelin' Lost/Little Girls Cry
A-Square Records, 1966
Leavin' Here/Respect
A-Square Records/Cameo Records, 1966
Hold On Baby/Sing
Cameo Records, 1967
Leavin' Here/Not Like It Is
Cameo Records, 1967
I Need You/Out In The Streets
A-Square Records/Capital Records, 1968
Guitar Army/Sunset
Genesis Records, 1969
Tracklist:
01 Look What You're Doing to Me
02 Gave My Love
03 Blues Jam
04 Little Girls Cry
05 Someday
06 Be My Girl
07 Wayfairing Stranger
08 Irrational
09 Turn on (Danby's)
10 Feelin' lost
11 I need you
12 Gloria
13 Smokestack Lightning
http://www.shareonall.com/RATIONALS_1966_ufux_rar.htm