A collection of UK bands from the second half of the 60s.
Included are some of the very best and famous like The Kinks and The Move both with tracks that were never released at the time and some very obscure ones...all very well known by the fanatics of course!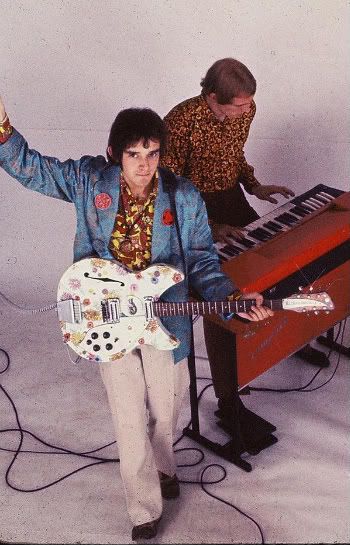 The Kirkbys had some great singles out that were collected in the great retrospective dedicated to 23RD Turnoff of the magical "Michaelangelo" fame together with some demos, here are a couple of my favourites, they probably had alredy changed name by then...
Around that time Kaleidoscope were recording some of the most wonderful examples of UK Psychedelia and here is a demo of an unreleased song possibly from late 1966, maybe early 1967 when the band had just adopted their new moniker.
Same with The Syn that famously played "The 14th Hour Technicolour Dream" event headlined by The Pink Floyd and recorded a song of the same title, but here is an early garagey demo from their beginnings.
The Brood? They changed their name to Turquoise and went on telling us tales of Flossie Fillet, while the trio that called themselves Friday's Chyld changed their name to Fire and released the great "Father's name was Dad".
Some of the rest was properly issued, like my favourite song on the great Bee Gees first album,the often comped but never tired of "I don't want you" by the brilliantly named Anteeeks all the way from Kilmarnock,Scotland and a cool one from Status Quo's second LP otherwise a much inferior effort to their debut.
Tracklist:
01.The Anteeeks I don't want you (1966)
02.The Bee Gees In my own time (1967)
03.The Brood Wrong way (demo 1966)
04.The Syn Merry-go-round (acetate 1965)
05.The Kinks Time will tell (prev.unreleased 1965)
06.Friday's Chyld I didn't know you (demo 1967)
07.The Move Vote for me (prev.unreleased 1967)
08.The Kirkbys/23rd Turnoff You sing your own song (demo 1967)
09.Majority One Depths of my mind (1969)
10.Friday's Chyld I just can't wait (demo 1967)
11.The Kirkbys/23rd Turnoff Flowers are flowering (demo 1967)
12.Status Quo You're just what I was looking for (1969)
13.Kaleidoscope You're not mine (prev. unreleased 1967)
14.Giles Giles and Fripp Under the sky (prev.unreleased 1968)
http://www.shareonall.com/UK_Beat_Sike_knmm.rar