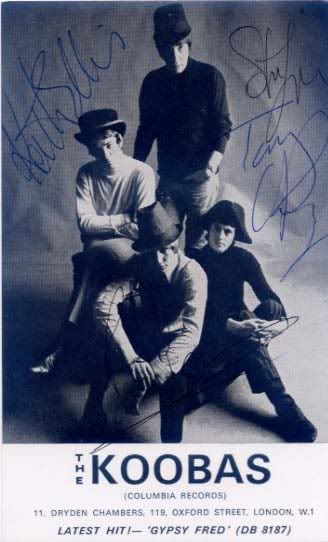 Isn't it amazing that The Koobas singles have not been the subject of a proper reissue?
Yes, some were added as bonus tracks to their album but as my friend Tulloch said "One of the interesting things about listening to the singles in order is the way they progress from Merseybeat through blue eyed soul (reminding me of the Action) and on to psych-pop, with an unfortunate detour into old-timey stuff with Sally/Champagne And Caviar"...yeah, I wonder what was the idea behind the "Sally" 45.
Still, this is a strong collection that would deserve a nice packaging, the kind of stuff Circle records have been doing for example, maybe one day!
UPDATE 19 May 2011: over a thousand downloads so far...
After I re-posted my almost complete Koobas 45s comp just over a month ago, my call to fill those gaps was answered...check the comments and you'll find another link to a similar but different comp, still incomplete!
So, here it is, thanks to Tulloch from England, the definitive Complete Singles Collection, that apart from ALL their UK sides it includes a rare B-side from a Denmark single only, a cool cover of a tune originally recorded by folk-guitar-hero Bert Jansch, and also two tracks from their album issued as a French 45 only.
Finally,nine LIVE tracks from their two 1966 appearances (Jan & Sept) at the German TV Show BEAT BEAT BEAT, most but not all of these have shown up on youtube (check my first post on Koobas).
COMPLETE SINGLES COLLECTION:
01 I Love Her
02 Magic Potion
03 Take Me For A Little While
04 Somewhere In The Night
05 You'd Better Make Up Your Mind
06 A Place I Know
07 Sweet Music
08 Face 1
09 Woe is love my dear
10 Sally
11 Champagne And Caviar
12 Gypsy Fred
13 City Girl
14 The First Cut Is The Deepest
15 Walking Out
16 Where are my friends?
17 Royston Rose
http://www.mediafire.com/file/0mrzmyzdyjj/Koobas Complete Singles.rar
LIVE AT BEAT BEAT BEAT, GERMANY 1966:
01 Daddy Rollin' Stone
02 Somewhere In The Night
03 Take me for a little while
04 You'd better make up your mind
05 Stubborn Kind Of Fellow
06 Shake
07 Take Me For A Little While (2)
08 You'd Better Make Up Your Mind (2)
09 You Don't Love Me
http://www.mediafire.com/file/dzdyt2eoyzu/Koobas Live 1966.rar