While at times it's been assumed The Scorpions were a Dutch band they actually came from Manchester. They formed in 1961 and moved to Holland in July 1964. They released several singles in different European countries with Holland and Germany being the main ones.
In Holland they had 3 albums released (4 if you count the two versions of the second LP).
Their first LP "Hello Josephine" was named after their biggest hit, released as a single at the end of 1964. The album is made up of their first 5 singles released between August 1964 and January 1965 and a couple of extra numbers. While lacking in original material there's a lot of energy and excitement in the performances, with a great original song "Baby back now" saved until the end of the record.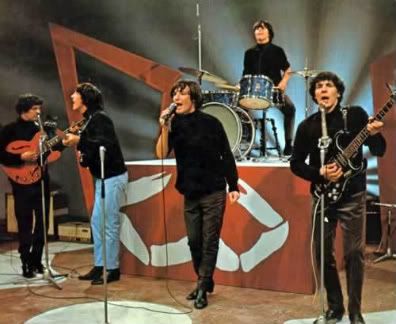 On their second album " Climbing the Charts" (also released as "Sweet & Lovely") there is one of their very best song, "Hey Honey" that has been covered many times since the eighties by bands like The Tell-Tale Hearts and The Thanes among others.
It was first released as the B-side of "Greensleeves" a big hit for the band and recorded by the original line-up.
By the time of this second album though, only a couple of the original members were left.
Due to problems with working permits the line-up kept changing and in 1966 they released a final album "Keep in touch with…" together with 3 singles. It's my least favourite album showing like many other groups of the time a "new" Soul direction but also including a Fab original, "Too many lovers" also the B-side of their final single.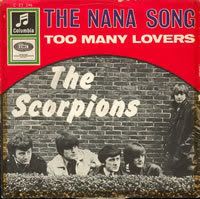 German picture sleeve

Here are those three Dutch albums which is virtually everything they recorded including all their singles sides.
http://www.shareonall.com/Scorpions_Hello_Josephine_LP_Holland_1965_qdqq.rar
http://www.shareonall.com/Scorpions_Sweet__Lovely_LP_Holland_1965_sdjd.rar
http://www.shareonall.com/Keep_in_Touch_with_The_Scorpions_LP_Holland_1966_osal.rar