Tages were one of the most popular band in their country, hailing from Gothenburg they released several singles and a total of five LPs.
As you can imagine their sound changed and evolved as the Sixties went on and in my opinion they reached their best in the years 1966-1968.
I love some of their very early singles, especially their second "I should be glad" / "Cry", but as a whole I can live without a lot of the covers that they also recorded.
Here is a selection of some of my favourite tracks from the last couple of years of the band:
01 In my dreams
02 I still remember
03 Guess who
04 Jealous girl
05 Go
06 Gone too far
07 Extra
08 Fuzzy Patterns
09 Hear my lamentation
10 You're too incomprehensible
11 Wanting
12 Prisoner 763
13 It's my life
14 Like a woman
15 She is a man
16 It's in a dream
17 Fantasy island
18 To be free
Tracks 1-7:1966, 8-16:1967, 17-18:1968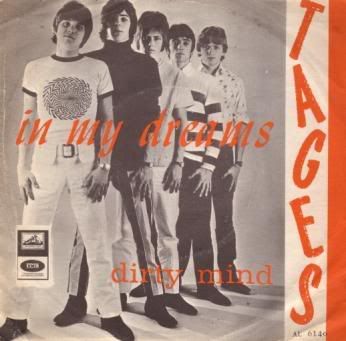 http://www.shareonall.com/TAGES_66-68_qqlz_rar.htm