When I first heard The Birds thanks to the Edsel comp that gathered their first 3 singles I couldn't believe my ears. That was about 20 years ago and I still listen to the Birds and I still think that crunching guitar sound is amazing. Especially when we think it was 1964-1965.
The band included a very young Ronnie Wood on guitar, vocals and harmonica,Tony Munroe on guitar/vocals, Kim Gardner on bass, Ali McKenzie on vocals and Pete McDaniel on drums.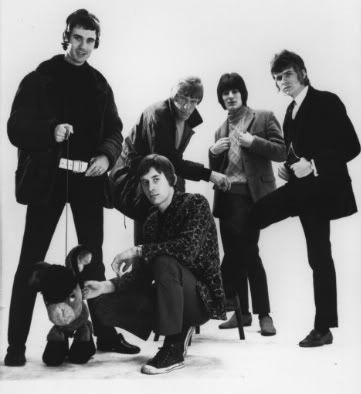 Their first single written by Wood came out on Decca in November 1964 and for the next two 45s they recorded a couple of Soul numbers but transformed them totally into powerful tunes with the inimitable Birds' aggression!
The B-sides were great too, both written by Ronnie Wood.
By the end of 1965 they were changing label and manager and their fourth final single was released on Reaction in 1966 actually as the Birds Birds after a suggestion by their new manager Robert Stigwood following their failed legal battle over the band's name when The Byrds toured England the year before...
They also appeared on the film "The Deadly Bees" in 1966 with the great unreleased track "That's all I need you for" and while they recorded few more songs nothing came out and eventually by 1967 it was all over.
Both Kim Gardner and Ron Wood joined The Creation in 1968.
01 You're on my Mind
02 You Don't Love Me
03 Leaving Here
04 Next in Line
05 No Good Without You
06 How Can It Be
07 Say Those Magic Words
08 Daddy Daddy
09 Run Run Run
10 Good Times
11 La Poupee Qui Fait Non
12 Granny Rides Again
13 You're on my Mind (Demo)
14 You Don't Love Me (Demo)
Tracks 1-2, 13-14 from 1964, 3-6 1965, 7-8 1966, 9-12 previously unreleased 1967.
http://www.shareonall.com/Birds_auxz_rar.htm