Here's a wonderful album by a very obscure band that rather than recording a single or two actually released a full album for ARC Italy in 1967: I love it!
I first came across them thanks to the great comp of few years ago "Come I Ragazzi della Via Paal" (vinyl only, 1994) an excellent sampler of great stuff from 1960s Italy, the kind of stuff you want to hear, very hard to find and most importantly of a different kind from most other bands that were/are better known.
I know now that the guys pictured on the back sleeve of that comp are the Planets, the band moved to Rome but was originally from Taranto in the Southern region of Puglia (the heel of the boot...).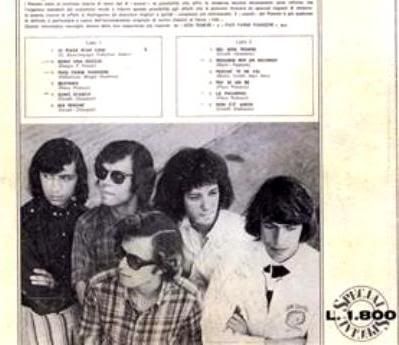 There's a great site in Italian,
http://www.musicaememoria.com/
about 60s Italian Beat with lots of info but had nothing on the Planets until my inquiry about a year ago, then they managed to collect some info and it turned out that the band had a certain exposure, appearing in films....
The album start with 3 covers and tipycally with completely different lyrics in Italian often about those misunderstood long-haired youth..see if you recognise them, the rest is mostly original stuff though and there's a further cover that was included on the above mentioned comp (perhaps Mr Gibbs could do an alternative version of this last one).
The source of this post is an original vinyl, you can hear the crackles and there's even a wee jump near the end of track 7.
NEW LINK! (23 Nov 2010)
http://www.mediafire.com/?rx7ufu3sneuf6pc